With the release of moby's latest album, All Visible Objects, nearing on the horizon this month sees an important musical landmark that highlights his artistic legacy. 
March 14th is the 25th anniversary of Everything is Wrong, Moby's third album, being released. Everything is Wrong was his first LP with long-term label partner Mute and, in Moby's own words, 'his first album.' Musically diverse, the 13-track album looked to cover all his various influences and was highly feted at the time – Spin named it their favourite album of 1995.
Speaking about the album's release with Spin in 2015, Moby felt it came at a time when electronic music was a "maligned, bastard stepchild genre." Everything is Wrong however presaged a seachange in the US mainstream, opening the doors for UK electronic acts like The Prodigy and Chemical Brothers to arrive and explode across the US. 
Everything is Wrong also demonstrated Moby's commitment to animal rights and activism; using the space normally allocated for album liner notes for an essay outlining the destructive and wasteful nature of modern living. This essay was augmented by a series of statistics that rammed home the message everything is wrong. We've dug out the essay from the DEF archives and scanned it below for your reading (dis)pleasure.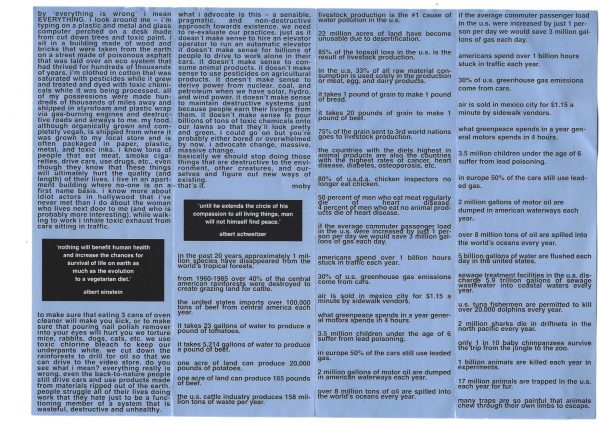 Back in 1995, when the earth's population was 5.7bn, no-one was really talking about these issues. Moby was even mocked for it, recalling a MTV presenter called him an "uptight ideolog" on live TV in an interview with Vice. In 2020, with the Earth's population creeping towards 8bn, the social consciousness themes of this essay seem all the more prescient.
As a footnote, the album was followed later that year by Everything Is Wrong (Mixed + Remixed + Remixed + Mixed), a promo-only double cassette from Moby that presented it in a different context. That context being the US techno rave scene Moby came from; a 26-track DJ mix from him featuring cuts from Everything Is Wrong remixed both by himself (under various pseudonyms) and his '90s contemporaries Westbam and Josh Winx. Looking back now, it feels like an interesting artefact of early mixtape culture where  "everything was mixed + remixed"…